2023. Illustration.



Bergskärringen lever på Bälingeberget i Luleå. Hon avskyr folk och är helst för sej själv. Men av någon outgrundlig anledning reser hon till Bratislava. Där trängs människor på gatorna. Men borta på ett berg, ett annat berg än hennes, vilar någon som liknar henne själv – en häxa!

Bilderna är illustrerade under UNESCO Albin Brunovský Workshop i Bratislava, oktober 2023.
Solvej längtar
Solvej longs
2024 (upcoming). Text and illustration.

In Solvej's family, everything is on routine. The others think it's nice and calm, but for Solvej everything feels wrong. Every day feel's quiet and empty, until one afternoon when someone in the city starts playing the trumpet...


The illustrations are made with paper collage, acrylics, gouache and watercolor.

The picture book will be published by Opal in 2024.
Disco
2021. Författare och illustratör.

Bilderbok, utgiven av Bokförlaget Opal.
Disco blev under 2022 utvald till The White Ravens av International Youth Library.

Under 2023 ges boken ut på danska av förlaget Turbine.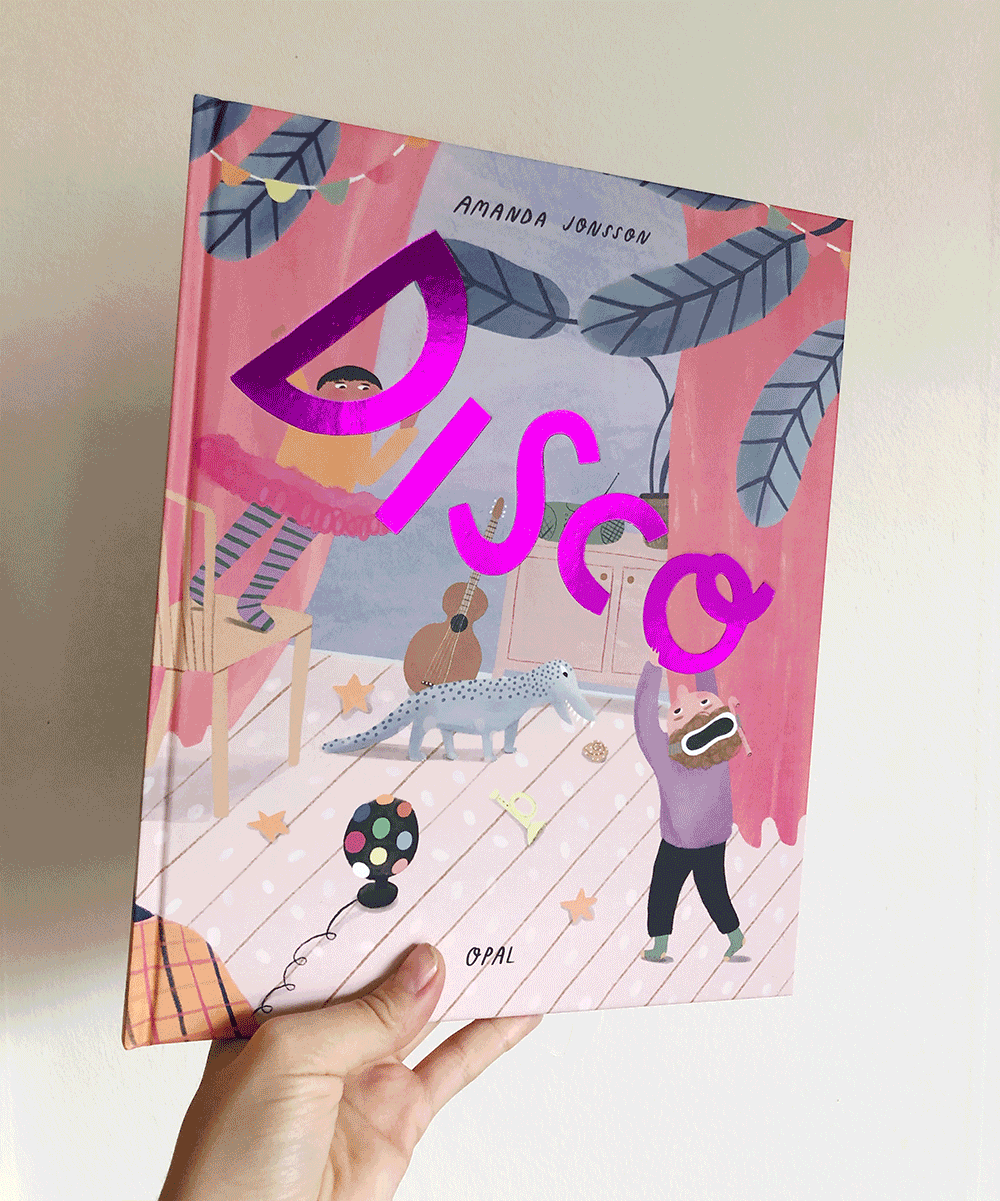 Recensioner


"With a lot of empathy, Amanda Jonsson describes children's (or rather human beings'!) experiences of frustration, their high expectations and great disappointments, which may be turned into something positive in the end." – The White Ravens 2022, A Selection of International Children's and Youth Literature, Internationale Jugendbibliothek

"Barnperspektivet är väl genomfört i denna bok som beskriver barns känslor på ett bra sätt. [...] Berättelsen är rytmiskt skriven och man märker att den är genomarbetad. Bilderna har en alldeles egen stil. Allt är lekfullt och fantasifullt genomfört med mängder av detaljer att glädas åt."
– Dag Hedberg, BTJ häfte 18, 2021.

"Amanda Jonsson växlar genomgående skickligt mellan ljus och mörker, fart och stiltje. Svängningarna är mjuka, men ändå dramatiska, och barnets perspektiv får blomma ut med full kraft."
– Jonna Fries, Borås tidning / Smålandsposten / Barometern.




Sally surar!
2020. Författare och illustratör.



Bilderbok, utgiven av Bokförlaget Opal. Sally surar! blev första bok att tilldelas Bengt Christell-priset 2020.

Recensioner
"Illustrationerna har en alldeles egen stil och kompletterar texten på ett bra sätt. Slutet är öppet, positivt och lite oväntat".
– Dag Hedberg, BTJ häfte nr 20, 2020.

"Amanda Jonsson, som vunnit Bengt Christell-priset och därmed även utgivningen, är en spännande bilderbokskonstnär. Hon skriver rättframt och fångar meningsskiljaktigheter med komisk udd. Det finns också en pirrande rörelse i texten som låter det magiska bli en del av det normala."
– Jonna Fries, Borås tidning / Smålandsposten / Barometern.


Du springer

Medverkan i antologin Du springer med novellen Man pratar ändå aldrig om något som känns.



Utgiven av Vox by Opal, 2019.
Red ecology
2022. Illustration.

Illustrationens for the essay Röd Ekologi written by Linda Boodh.
Published in Astra Magazine, issue 3/4 2022, Ecologies.

In the Woods
2023. Illustration, animation, character design.
This is a personal project in the making. I made an adaption of the character Red Riding Hood as a school project, but then it grew to something more. With these two characters; the girl with the red bonnet and her dog, I want to explore animation and build a world.
Vem får plats på de konstnärliga högskolorna?
Who has access to the artistic universities?
2022. Animation, illustration, concept.
Animated movie with data visualization which highlights the uneven recruitment to the biggest artistic universities in Sweden.

Based on stats from

Universitetskanslerämbetet

.
The text in the animation is in Swedish.

Paintings
Sometimes I paint. These are a few of my latest work.

(This page is under construction)
2022. Acrylics, gouache.